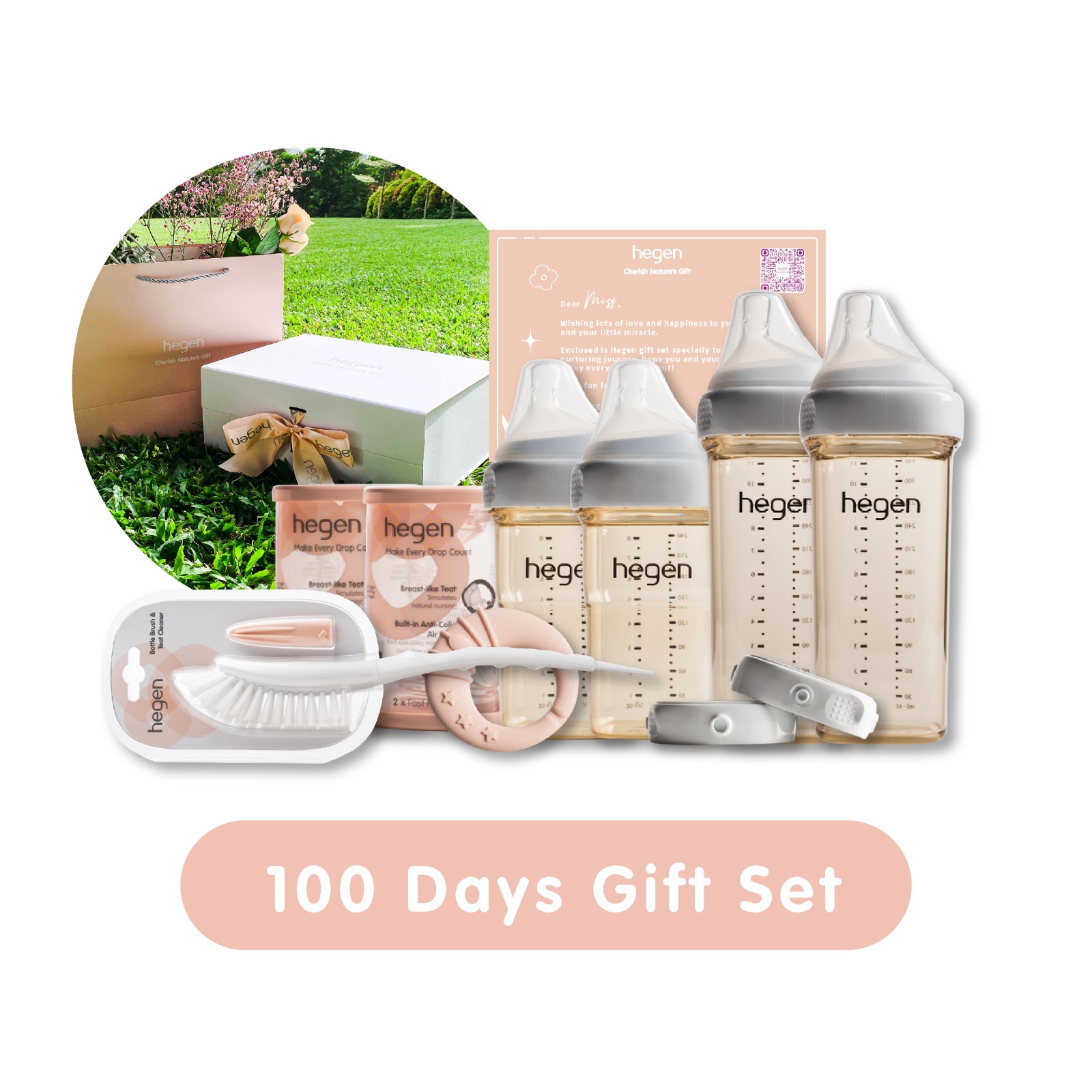 100 days Gift Set
2022 年 8 月 22 日
Hegen – PCTO™ Manual Breast Pump Kit (SoftSqround™)
2023 年 2 月 28 日
Hegen – PCTO™ Double Electric Breast Pump (SoftSqround™)
$3,188

Barcode: 8886476100169
What's Included
1 x Electric Breast Pump Device
2 x PCTOTM Pump Body (SoftSqroundTM)
2 x Flange (SoftSqroundTM) 22mm
2 x PCTOTM eCap and eDiaphragm (SoftSqroundTM)
1 x Manual Breast Pump Handle (SoftSqroundTM)
1 x Manual Breast Pump Diaphragm (SoftSqroundTM)
2 x Valve
1 x Kneading Ring
1 x eCap and eDiaphragm
2 x Silicone Tubing
1 x Power Adapter
2 x Hegen PCTOTM 150ml/5oz Breast Milk Storage PPSU (with pink lid)
In stock
Featuring all new silicone SoftSqround™ flanges, our Hegen Double Electric Breast Pump is a portable breast pump with hospital-grade suction strength perfect for mothers beginning their breastfeeding journey. Use it as a single or double pump to express and store breast milk directly into our Hegen breastmilk storage containers, minimising the transfer of precious milk, making every drop count.
The new SoftSqround™ flanges are made of soft silicone for best adhesion to skin and has a uniquely designed flange tunnel that is gentle on the nipple, making every pump session a comfortable one. The unique Hegen sqround™ shape also allows for mothers to adjust and find the best fit angle for different breast sizes. Our eCap and eDiaphragm now comes in Hegen's signature Press-to-Close Twist-to-Open™ (PCTO™) innovation for easy, quick, and accurate assembly.
Research has shown that massaging your breasts before pumping increases the breastmilk output and a mum who is relaxed and calm when pumping produces a better quality of milk. Our pump is the world's first relaxation electric breast pump designed for comfort and efficiency. It includes a kneading massage feature (patent pending) that helps relieve body aches and sore muscles experienced by breastfeeding mothers. The massager creates a gentle cupping and kneading sensation to release tension from breast engorgement and applying it on meridian points helps to stimulate milk supply.
22mm flange is included in this set. 4 other flange sizes are available for sale separately.
*For a step-by-step guide on using the Electric Breast Pump, click here.
User Tips:
Long press the switch to start, it will be automatically jumps to the 'M' massage mode. Automatic massage mode promotes healthy milk flow by stimulating let-down reflex just like the natural suckling of your baby.  After two minutes of massage mode, it will automatically jump to the normal sucking mode.
1 – 12 levels of strength
Single pumping recommend to begin with level 4
Double pumping recommend to begin with level 6
3 expression rhythms – slow, medium or fast to enjoy your optimum and comfortable expression.
– One water drop (slow speed) is suitable for low flow breastfeeding mums.
– Two water drop (medium speed) is suitable for medium flow breastfeeding mums.
– Three water drop (high speed) is suitable for high flow breastfeeding mums.
Combined the 1-12 level of pumping strength, there are total 36 spend and strength combination.
The breast pump mode is completed every 30 minutes, and the machine will automatically shut down.
It can be used for about 3 hours when 100% is fully charged. The actual situation depends on the strength and frequency use.
1 year warranty support
| | |
| --- | --- |
| Weight | 1.5 kg |
| Dimensions | 39 × 29 × 11 cm |